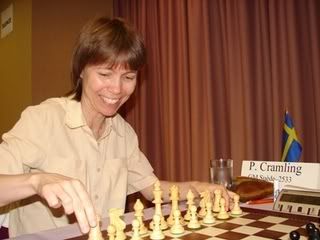 Swedish GM, Pia Cramling, granted me an interview after her round 6 victory over WGM Cristina Adela Foisor.
Q: Could you tell me about today's game?
I got a nice initiative. She played very quickly but then made a big mistake with 23. ... Qa7, because after I take on d6, my position is just overwhelming. She had to take on c5 probably. Then I will play 24. Ne5, and then a4 and Re3, with an attack. She didn't want me to enter with the knight, and this is why she didn't want to take on c5.
(
replay
)
Q: What is your opinion of Myriam Roy?
I think she is very young. She is very good for her age. It is very important that she has someone who helps her. For her, it doesn't matter what the result is, the main thing is that she learns from all the games, and she analyzes the game with someone. She also has to work and to enjoy playing chess.
Q: How important is it for chess to have women's only events?
I think its important still because only 5% of players are women. When I was playing 20 years ago it was about 2%. We have to give benefits to women players, to help the young players. Women players should be encouraged to play in mixed events, but then we have this extra, which also has a social element, which is important for women. It is also important to have this grand prix, because while the ACP has a grand prix open to everyone, the difference between the top men and the women players is so great, except for Judit Polgar.
Q: So the goal of women's events is to popularize women's chess, so one day you won't have to have women's events anymore?
Yes. This is my opinion. If 40% of all the players were women, then we wouldn't need them. I think there should be much more women in all parts of chess, in organization, in the clubs, as trainers, and that's why this is so nice, because the women organizers here are organizing with their hearts, and I think we are all happy to be here.
Q: Is this your first time playing chess in Canada?
No. Its my fifth time. I was in Vancouver twice and I was in Toronto twice. The first time was in 81 and I played in a women's event and then in an open, and I had to speak English. It was very good for my English, becuase I was alone for a month, and I had to get around some how. Also, in 2003 I was invited to play in Toronto and Guelph.
Q: Does your daughter play chess?
Yes. She knows the rules.
Q: She does not play competitively?
She is only 5!
Q: Do you wish for your daughter to play competitively?
I would like her to play because I think children benefit from chess. But I also think its very good to do lots of things.
Q: What do you think of Montreal?
I like it very much. I liked how when we are on top of the mountain I could see how green the city was. I am from Stolkhom, which is also green, but Montreal is even more so.
Q: You are due to play Irina Krush tomorrow, is that game going to be important for the overall standings?
I think every game is important, so not especially so.


This interview is property of Robin Lindsay, all rights reserved. Please contact Robin Lindsay at
rockrobinoff@gmail.com
if you wish to reprint this interview.