A new trio of leaders has emerged at the Montreal International. Ivanchuk, Kamsky, and Elyanov, all won their games and are on 3/4. Sutovsky also won, getting him on the scoreboard, which leaves Nigel Short all alone in the cellar with zero(!) points from four games.
Charbonneau v Sutovsky was a Scotch game (C45). In this interesting position: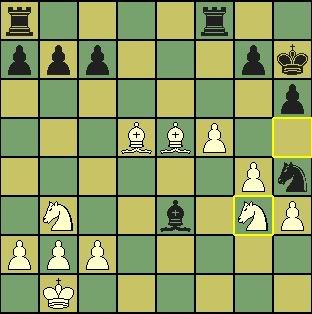 White is down two exchanges for a pawn, but might be almost okay after 27. Bxb7 Rae8 28. Bc3. Instead, Charbonneau played Nh5? and went down quickly after:
27. ... Nxf5 28.gxf5 Rad8 29.c4 Rxd5 30.cxd5 Rxf5 31.Bxc7 Rxh5 32.d6 Bf4 0-1


Replay the game
here
Pgn
Ivanchuk launched himself into a tie for the lead with his win over the struggling Nigel Short. A French Tarrasch (C07), Short seemed to be defending almost from the outset, and resigned two moves after Chucky's second queen appeared on the board.
Replay the game
here
Pgn
Kamsky v Tiviakov was a Queens Indian where white omits c2-c4 (A47). Kamsky's victory placed him at the top of leaderboard, and knocked Tiviakov out of a tie for first in doing so.
Replay the game
here
Pgn
A game that could have been played 100 years ago, Bluvshtein v Miton was a Queen's Gambit Cambridge Springs variation(D52). Another solid draw for Canadian Mark Bluvshtein, who is resting comfortably at +1.
Replay the game
here
Pgn
Another important encounter was Elyanov v Harikrishna. Another Slav(D19) brought Elyanov to the top of the leaderboard, and HariKrishna down into a tie for second with Tiviakov.
Replay the game
here
Pgn