Round 3 was a double shocker as both Emil Sutovsky and Nigel Short both lost again. That makes three duck eggs in a row for the Israeli and the Englishman.
First to finish was the Harikrisna v Kamsky game. Pentala played the rare 6. Bd2 in an a6 slav (
D15
), which didn't seem to faze Kamsky at first. However, he spent 15 minutes on 7. ... dxc4 and a further 30 minutes on 10. ... Nd7. However, after Kamsky blitzed out a few more moves, the peace was nonetheless signed on move 15.
Replay the game
here
Pgn
Ivanchuk ground down the hapless Sutovsky in a marathon game. Sutovsky never seemed to get enough compensation for a pawn shed in the opening (a Gruenfeld with 4.Bg5
D80
) and was forced to shed another pawn and then a piece late into the endgame.
Replay the game
here
Pgn
Tiviakov handed Short his third loss in a row. Short may be out of form, but this was nonetheless a fine attacking game by Tiviakov, who tore black apart in a Ruy Lopez(Worrall Attack
C86
), sacrificing two pawns along the way.
Replay the game
here
Pgn
Bluvshtein is just a half point off the pace after his victory over fellow Canadian Pascal Charbonneau. A Kings Indian(
E98
), both players thought during the postmortem that the other was worse at some point, but nonetheless agreed that Pascal's 25. ... Bh6 was "crazy" and led to a quick loss.
Replay the game
here
Pgn
Miton v Elyanov was a fighting draw that went the duration before the player's agreed to share the point.
Replay the game
here
Pgn
Coleaders Sergey Tiviakov and Pentala Harikrishna



Nigel Short is having no luck this tournament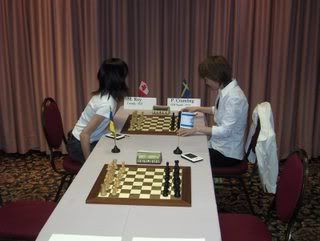 FQE select Myriam Roy had the daunting task of facing the legendary Pia Cramling in the first round of the Women's Grand Prix Finale



Fresh from her victory at the US women's championship, Irina Krush



Take this (the Personal Chess Manager by Monroi)



Combine it with this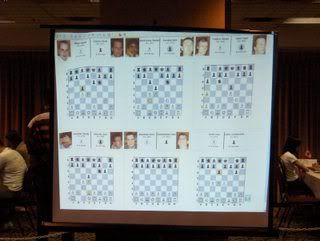 And you get this, real time broadcast for the benefit of live spectators and on those on the internet.


Please contact Rockrobinoff@gmail.com if you wish to use any images for your site. Larger versions are available.

All images copyright Robin Lindsay 2007.