'
Short Draws!
' may sound like a less than sensational headline, but until round 5, points on the scoreboard for the English grandmaster had been the rarest of commodities at the Montreal International.
Sutovsky v Short was a Marshall gambit ("I haven't played the Marshall in 15 years" said Short during a very good natured postmortem), where black equalized comfortably. The players seemed to agree that in this position: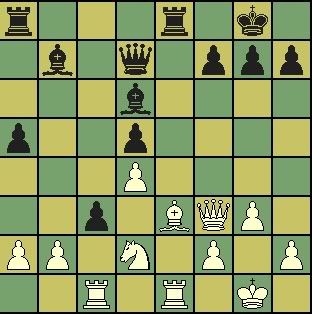 bxc3 was a better try than Sutovsky's Rxc3, after which black has no problems.
Replay the game
here
Pgn
Ivanchuk v Kamsky was a Marshall gambit as well, and followed Sutovsky and Short for some way. The peace was signed in a very drawish rook and bishops of opposite colours ending.
Replay the game
here
Pgn
Tiviakov v Elyanov was another Ruy Lopez (Anderssen C77) which saw Elyanov resign in a hopeless position with only seconds on his clock. Tiviakov, who is playing very inspired chess this tournament, sacrificed a piece for two dangerous mobile and connected passed pawns in the centre. Game of the tournament in my opinion.
Replay the game
here
Pgn
Harikrishna v Bluvshtein was a very long game, where Harikrishna permitted Bluvshtein two queens to his one for several moves in an ending. However, careful analysis (care of grandmaster Fritz) shows that Pentala was never in any danger of losing. An interesting and brave game from the Indian.
Replay the game
here
Pgn
Miton v Charbonneau was a terrific middle game tussle with mutal sacrifices. Miton came out on top after the dust cleared.
Replay the game
here
Pgn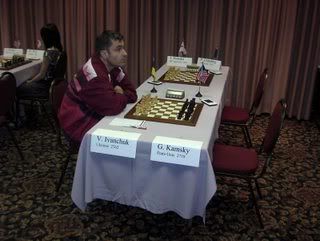 Tied for the lead: Vassily Ivanchuk



Kamsky and Ivanchuk after their game



Tiviakov tears Elyanov apart in an inspired game



Leading alone in the Women's Grand-Prix:
Jovanka Houska of England
Please contact Rockrobinoff@gmail.com if you wish to use any images for your site. Larger versions are available.

All images copyright Robin Lindsay 2007.