Round 9 saw Vassily Ivanchuk defeat Harikrishna with the white pieces in a Petroff. Sutovsky informed me that Ivanchuk refused a draw offer from Harikrishna at some point during the game. This may be Ivanchuk's best year, with vicroties at Aerosvit and the Third Pivdenny Bank rapid chess tournament in Odessa, and now the category 16 Montreal International.
Nigel Short ushered a King's Gambit against Bluvshtien, and after some fireworks (including a Queen sac) was forced to tip his king. The game with Bluvshtein marks the end of of a disastrous tournament for Short, who finished in dead last by a full point with 2 out of 9. For an explanation of Short's miserable performance check out his interview at
Chessbase
Pia Cramling clinched sole first place with a last round victory over Ketevan Arakhamia-Grant. For her efforts, in addition to the first prize check, Pia will receive a diamond encrusted watch from Galazzo jewelers.
The closing ceremony featured kind words by Vassily Ivanchuk, who said he was extremely happy with the organization of the event, and thought that it was great for chess that the Women's Grand Prix and the Quebec Open were played along side the International. He also said that he would accept an invitation to play next year.
Round 9 games from the International
here
Round 7 games from the Women's Grand Prix Finale
here
Monroi
FQE
Montreal International 2007 Champion, Vassily Ivanchuk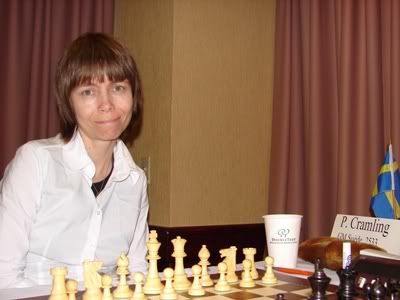 Women's Grand-Prix Finale Champion, Pia Cramling