The layers of drama surrounding the Nigel Short v Gata Kamsky encounter (a draw) at the International made it interesting for the spectators to say the least. Kamsky showed up several minutes late for the game, and Short simply stood at the other end of the room, refusing to acknowledge his opponent. Kamsky then took several more minutes to make his first move, at which point Short returned to the board. The game featured the truly ancient Ponziani's Opening, 1. e4 e5 2. Nf3 Nc6 3. c3!? which is rarely seen at the top level these days. Short's motivation for playing this line remain a mystery. During the game both players were rooted to the board, rarely getting up to stretch their legs or to see what was happening in the other games. Obviously, both players were extremely motivated not to lose.
Nigel Short v Gata Kamsky
Replay the game
here
Pgn
Sergey Tiviakov continues to display the best chess in Montreal with another fine attacking game, this time against Polish national Kamil Miton. Sergey goes into the penultimate round 1/2 point ahead of Vassily Ivanchuk, who is in sole second place.
Replay the game
here
Pgn
Mutual blunders were exchanged in Harikrishna v Charbonneau, and both players agreed that a draw was thus a fair result.
Replay the game
here
Pgn
Sutovsky and Elaynov didn't want to fight and agreed a draw on move 17.
Replay the game
here
Pgn
After winning a pawn right of the opening, Ivanchuk ground down Bluvshtein in a Q and pawn ending.
Replay the game
here
Pgn

Seems perfectly innocent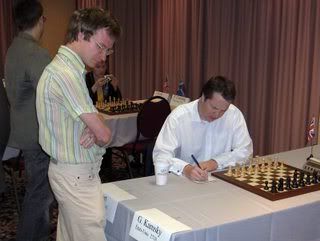 Short getting ready


Please contact rockrobinoff@gmail.com if you wish to use any images for your site. Larger versions are available.

All images copyright Robin Lindsay 2007.